ARTIST SPOTLIGHT: BRIAN COLEMAN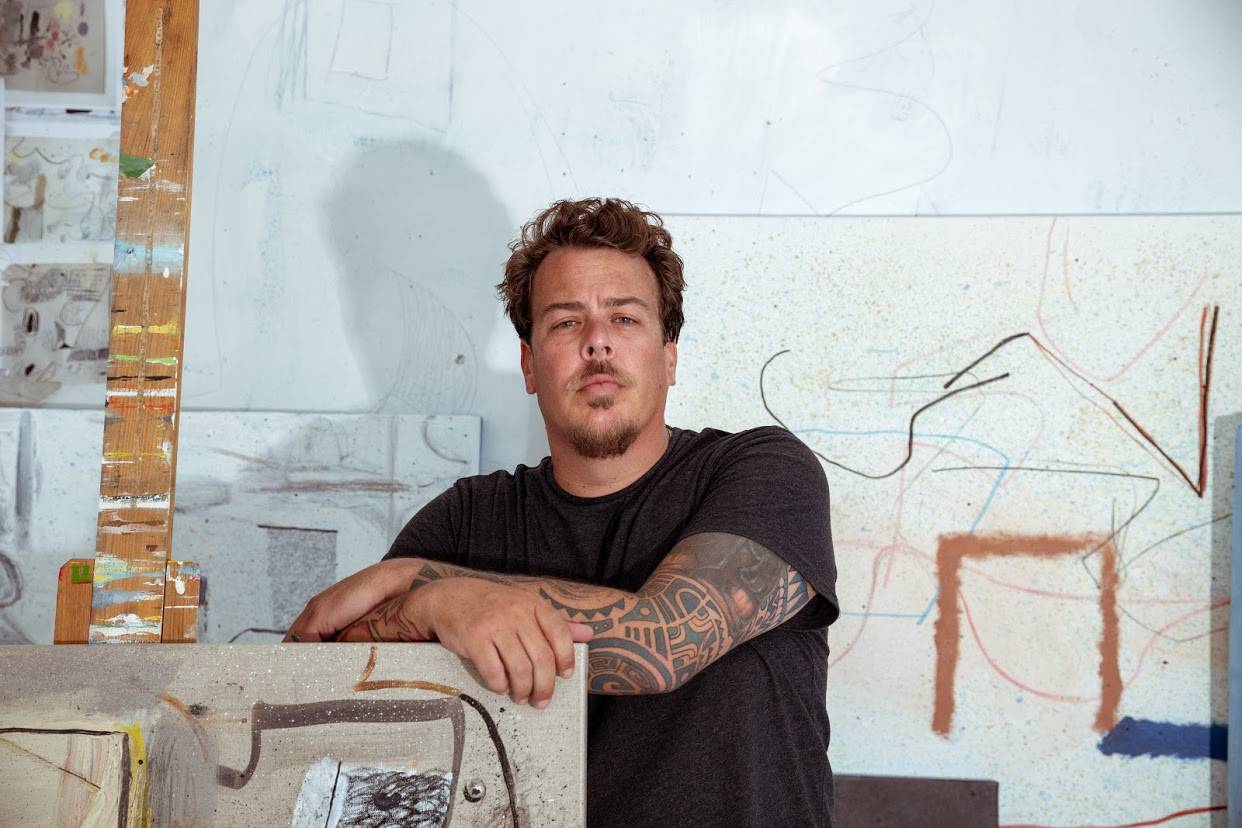 ABOUT THE ARTIST
American Artist Brian Coleman long craved getting his paintings off of the canvas. Transferring his artwork to the floor was the unexpected part. Calling the act of creating "a need, and a form of therapy," Coleman's gestural works are evocative and emotional interpretations, of memories and future visions, a celebration of shape and form.
"I draw because I need to, I always have, and it is a form of therapy for me. They are pieces and parts of life - memories, out of space happenings, free drawing in the moment, recurring images I have used in previous works that have told other stories. I am always building the surface, changing direction and rearranging on a journey to explore the space on the canvas; the drawing comes alive and starts to move and grow, gaining substance. The images are pieces and parts of the past, present and future, in the process of becoming something else. The works become stories of their own, they come together to become another place in time, they are not made to make sense, they are made to evoke feelings. I am never arriving at a place, and I am constantly using my pieces and parts in the process of a journey that never ends".
Coleman received his degree in graphic design from the Art Institute of Charlotte and has been a practicing Artist since 2003. He currently lives and works in Mooresville, NC with his wife, son, and daughter.
'WHEREVER IT TAKES ME'
Wherever It Takes Me consists of a soft mottled grey background contrasting with bursts of rich oranges, baby blues and petrol shades. Interspersed brushstrokes draw the eye across the canvas, whilst remnants of the previous marks made act as familiar motifs throughout Coleman's work.
'THE BLOOM & THE THORNS'

Inspired by a trip to Lake Wylie in South Carolina, The Bloom & The Thorns draws from the reflections found upon the surface of the lake water. Coleman uses lines and shapes from a map of the lake within the piece, whilst the blush tones emulate the blooming roses from the surrounding areas.
'WHERE I WANT TO BE PART 1'
Inspired by day drawing, Where I Want To Be combines ephemeral strokes with graphic marks to demonstrate a reflective playfulness throughout the piece. The neutral colour palette contrasts against striking gestural marks. Part of a dyptich design, Where I Want To Be can be bought together or as a stand-alone piece.
'WHERE I WANT TO BE PART 2'
Coleman uses a tonal shades to capture moments of the past, present and future, creating a mesh of memories that simultaneously fade and intertwine. The neutral colour palette contrasts against striking gestural marks. Part of a dyptich design, Where I Want To Be can be bought together or as a stand-alone piece.
'WOOD STRUCTURE'
Wood Structure explores the beauty of lines, balance and form from an architectural perspective. Originally created on wood, Coleman builds up this composition through an array of angular forms in luscious gold tones. The graphic construction of these shapes sit beautifully upon a dusty rose background.
'LIBRARY OF FORMS'
Stemming from his background in Graphic Design and Film Editing, Library Of Forms captures Coleman's love for bold markmaking. The overlapping sketched forms provide an insight into the workings of Coleman's artistic style, creating a rich and dynamic story that amalgamates ideas from several points in time.
Knots Rugs third instalment of the 'Your Floor Is The Canvas' features six new designs, translating Brian Coleman's original contemporary mixed media artwork into modern masterpieces. Each piece has been skilfully hand-knotted in the Kathmandu Valley of Nepal using the world's oldest traditional skills and the finest Tibetan wool and Chinese silk.
Bespoke sizes and colourways are also available upon request.