17TH CENTURY KING UMBERTO POLONAISE
Once belonging to the King Umberto II of Italy, full name Umberto Nicola Tommaso Giovanni Maria di Savoia, and the last King of Italy, the King Umberto Esfahan Polonaise rug is now part of a private collection.
Original Polonaise carpets achieved their hallmark silver and gold shimmering grounds by wrapping extremely fine metallic threads around the silk yarns in a way that left the silk partially exposed. The metallic threads altered the appearance of the underlying dyed yarns, creating a golden appearance when integrated with yellow silks and a silver appearance with white, which is a classic example of the intricate historical Polonaise carpets.
Given its quality, condition, colour and provenance, this rug last appeared on the open market back in 2015 at a Sotheby's auction, and sold for $790,000 dollars to a private American buyer. This was way above its low estimate of $245,650 which was already over the record for an oriental carpet at auction.
This rug is now estimated at $800,000 - $1,200,000.
This rug was previously shown at Sotheby's in London on 17 October 1984, when it sold for what was at the time, an almost unimaginable world record sum of £198,000, equivalent to a quarter of a million US dollars today.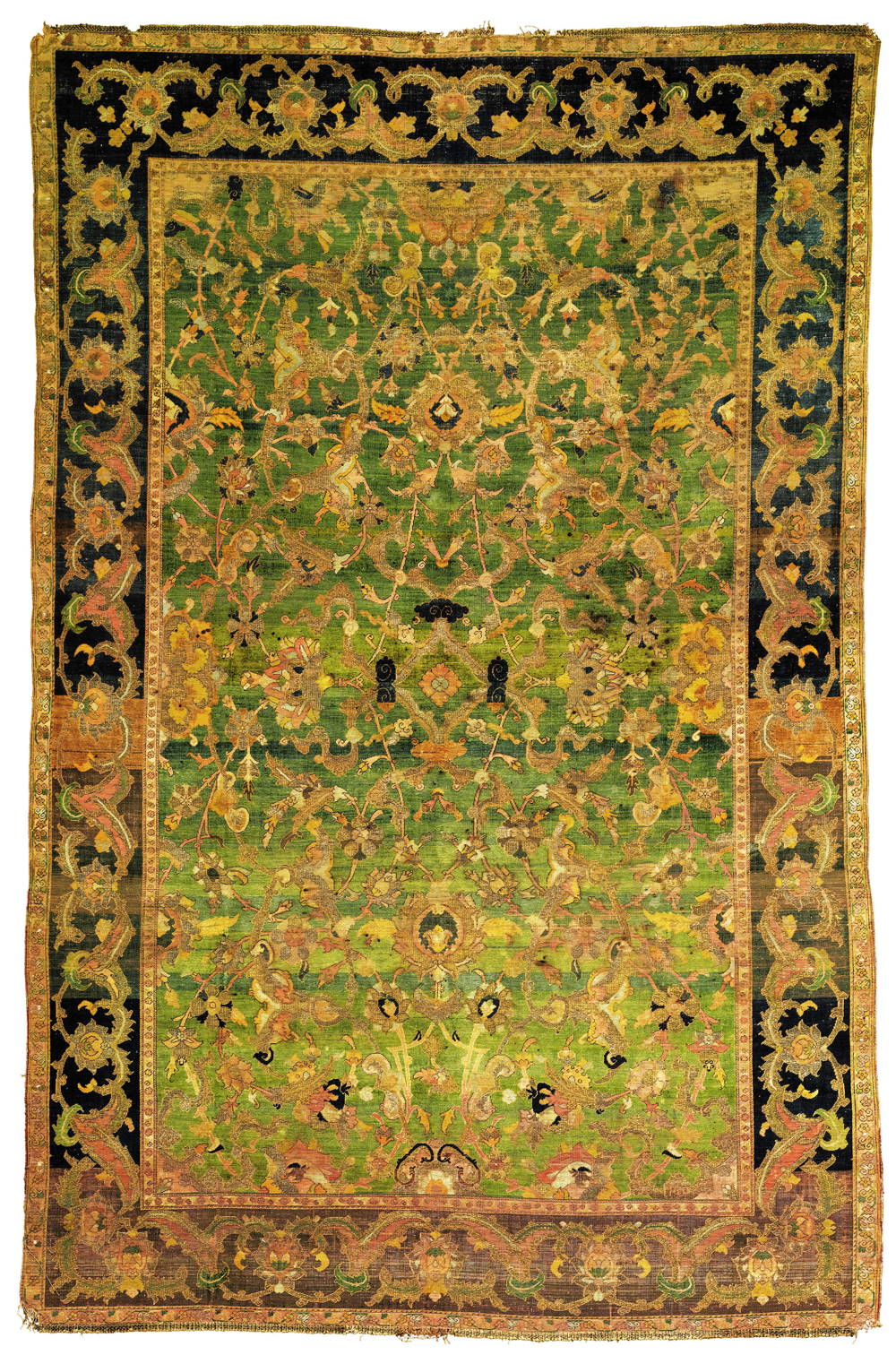 THE KING UMBERTO II 'POLONAISE' RUG, Property from a Renowned Private Collection
A 'POLONAISE' SILK AND METAL-THREAD RUG, ISPHAHAN OR KASHAN, CENTRAL PERSIA, 17th century
Our limited-edition 17th Century Modern King Umberto Skull design is a modernised interpretation of the original Polonaise carpet, which belonged to King Umberto II of Italy.
Knots Rugs have fused elements from this oriental traditional rug design with subtle skull tattoo imagery, bringing a new and original concept to the rug industry. Our King Umberto Skull rug has been finished with an oxidisation technique which effects the wool beneath the overriding layer of silk, creating an extraordinary 3D effect with a unique look and antique appearance. The harmonious blend of these materials combined with the vivid blues, subtle greens and rich reds is what gives the Polonaise rug its distinctive colour palette.